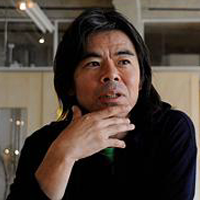 Katsuhiko Hibino
Born in Gifu Prefecture in 1958. Earned a Master's degree from Tokyo University of the Arts in 1984. Won the Japan Graphic Exhibition Grand Prix in 1982. Won the Minister of Education Award for Fine Arts in 2015. Employs local elements in his art. Currently Dean of the Faculty of Fine Arts at Tokyo University of the Arts and professor of Intermedia Art.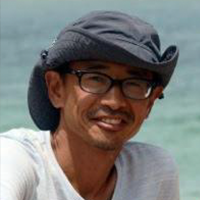 Yousuke Kaifu
Doctor of Science, born in 1969. Head of the Human Evolution Division at the Anthropology Department of the National Museum of Nature and Science. Leads the "Comprehensive Reproduction of Seafaring 30,000 Years Ago" project. His field of expertise is human evolution and diaspora studies in Asia across the past two million years. He was awarded the 9th Japan Society for the Promotion of Science Prize. His books included Nihonjin ha dokokara kita no ka ('Where Did First Japanese Come From?') and Jinrui ga tadottekita michi ('Human Tracks')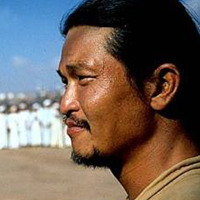 Jin Ishikawa
Explorer and maker and sailor of kusabune (reed boats). Born in 1967. Has studied the culture of indigenous peoples through various kinds of fieldwork. Participated in the official UN project Expedition Mata-Rangi to sail a reed boat 13,000km across the Pacific and Atlantic Oceans. He was the first in Japan to sail on the open seas in a reed boat, travelling from Kochi Prefecture to the Izu Islands. In 2019, he plans to cross the Pacific Ocean in a reed boat from the West coast of America.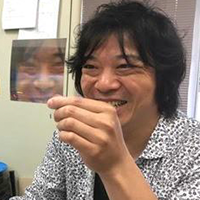 Taro Suzuki
Born in Katsushika-ku, Tokyo in 1973. Earned a graduate degree from Tokyo University of the Arts in 2005. A media artist who creates works possessing primordial beauty that stems from observations of physical phenomena in the natural world, as well as from meticulous observations and an understanding of their allure. Currently an associate professor of design at the Faculty of Fine Arts, Tokyo University of the Arts.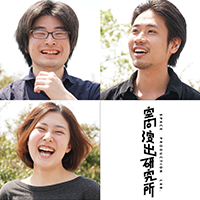 Taro Suzuki Laboratory
Conducts research into the potential for spatial expression that freely incorporates and utilizes the traits of various materials, as well as formative elements like light and movement. The Laboratory also explores new frontiers of design, including fusion with technology and other new fields.
Member: Satoshi Aso, Taro Suzuki, Takatoku Nishi, Anna Watanabe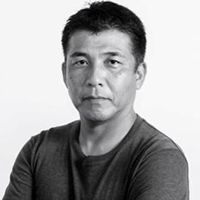 Kazuyuki Hashimoto
Born in Kanagawa Prefecture in 1965. Earned a graduate degree from Tokyo University of the Arts. Has worked on numerous designs for hotels, residences, commercial facilities and more as an interior designer. A researcher of spatial design in general, including art, architecture, interiors, displays and products. Currently vice dean at the Faculty of Fine Arts, Tokyo University of the Arts and professor of design.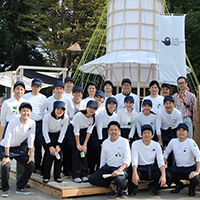 Tea-tasters
In accordance with its motto of 'contributing to enriching customers' lives with a spirit of hospitality,' the Ito En group organizes a variety of educational activities related to tea. Its certified tea tasters possess wide-ranging knowledge and technical expertise, from the history and culture surrounding tea to making delicious tea. Since 1994, Ito En has implemented a certification system for its employees so they can become tea experts and conduct educational activities inside and outside the company. In 2017, this system was officially recognized by the Ministry for Health, Labor and Welfare.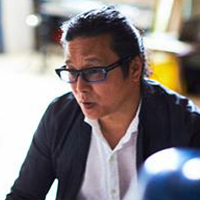 Shinji Ohmaki
Born in Gifu Prefecture in 1971. Earned a graduate degree from Tokyo University of the Arts in 1997. Won the 8th Enku Grand Award in 2015. Space, time, gravity and memory are the key concepts behind his work. Exhibits dynamic installations that stir physical sensations in viewers.
The Global Art Practice Masters' Course at the Art Research Faculty of Tokyo University of the Arts
The Global Art Practice Masters' Course at the Art Research Faculty of Tokyo University of the Arts was newly established in April 2016 to focus on social practice and employee training for contemporary art in a global context.
École Nationale Supérieure des Beaux‐Arts
The École Nationale Supérieure des Beaux‐Arts was established in its current location on Rue Bonaparte, Paris in 1816 by Louis XVIII (the school opened in 1819). It offers a range of courses in subjects such as sculpture, painting, printmaking, metalworking, architecture, and so on, and is aimed at producing art practitioners of the finest quality.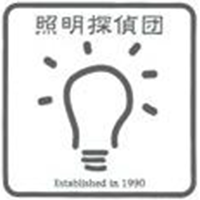 Lighting Detectives
The Lighting Culture Association is a not-for-profit organization carrying out practical research largely concerned with the lighting environment we live in. It sees light and lighting, and all associated phenomena, as a constituent part of our culture, and engages in dialogue about creating a future with better lighting.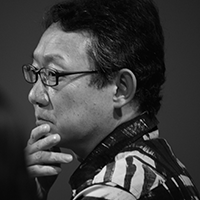 Chihiro Minato
Photographer and writer. Born in 1960. Involved in a wide range of research around the themes of memory, the image, and the group, focusing on but not limited to visual anthropology. His book Kioku: souzou to souki no chikara ('Memory: The Power of Creation and Remembering') was awarded the Suntory Prize for Social Sciences and Humanities, and his photograph exhibition Shimin no iro ('Local Color') the Nobuo Inano Award. He has worked as curator and artistic director for international exhibitions in a number of different countries.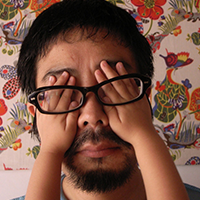 Tsuyoshi Ozawa
Artist. Born in 1965. He is best known for series such as Vegetable Weapon (2001 on), a collection of portraits of women holding weapons carved out of vegetables, The Return of(2013 on), based around the stories of historical figures and combining fact with fiction, and so on.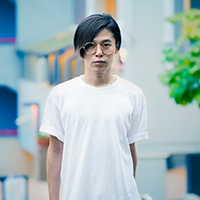 DÉ DÉ MOUSE
Solo project by Daisuke Endo (Composer, Aranger, Producer, Keybodist, and DJ.) He is active on programming, mixing and mastering his own tracks as well as producing movies. He also produces, remixes and offers tracks for others.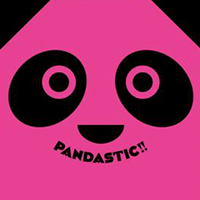 Kopanda Winds
The Panda Wind Orchestra was founded in Tokyo University of the Arts in 2011 out of a passion for wind music. It takes its name from the two pandas who arrived in Ueno Zoo at the time of its creation. Made up of a close-knit group of young wind and percussion players, it is a cutting edge experimental musical ensemble.
http://www.pandawindorchestra.com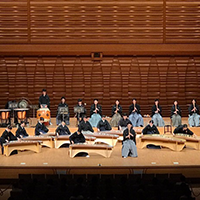 Department of Traditional Japanese Music, Tokyo University of the Arts
Students of Traditional Japanese Music at the Tokyo University of the Arts principally learn about performance of classical Japanese music, in the hope that they will carry on those timeworn traditions. In the koto and shakuhachi majors, students interact with those studying composition and western music in order to explore new musical possibilities. The third-year students performing here also appear in the Thursday Concerts in Taito City. *Five players of Koto and Shakuhachi will perform for this concert.